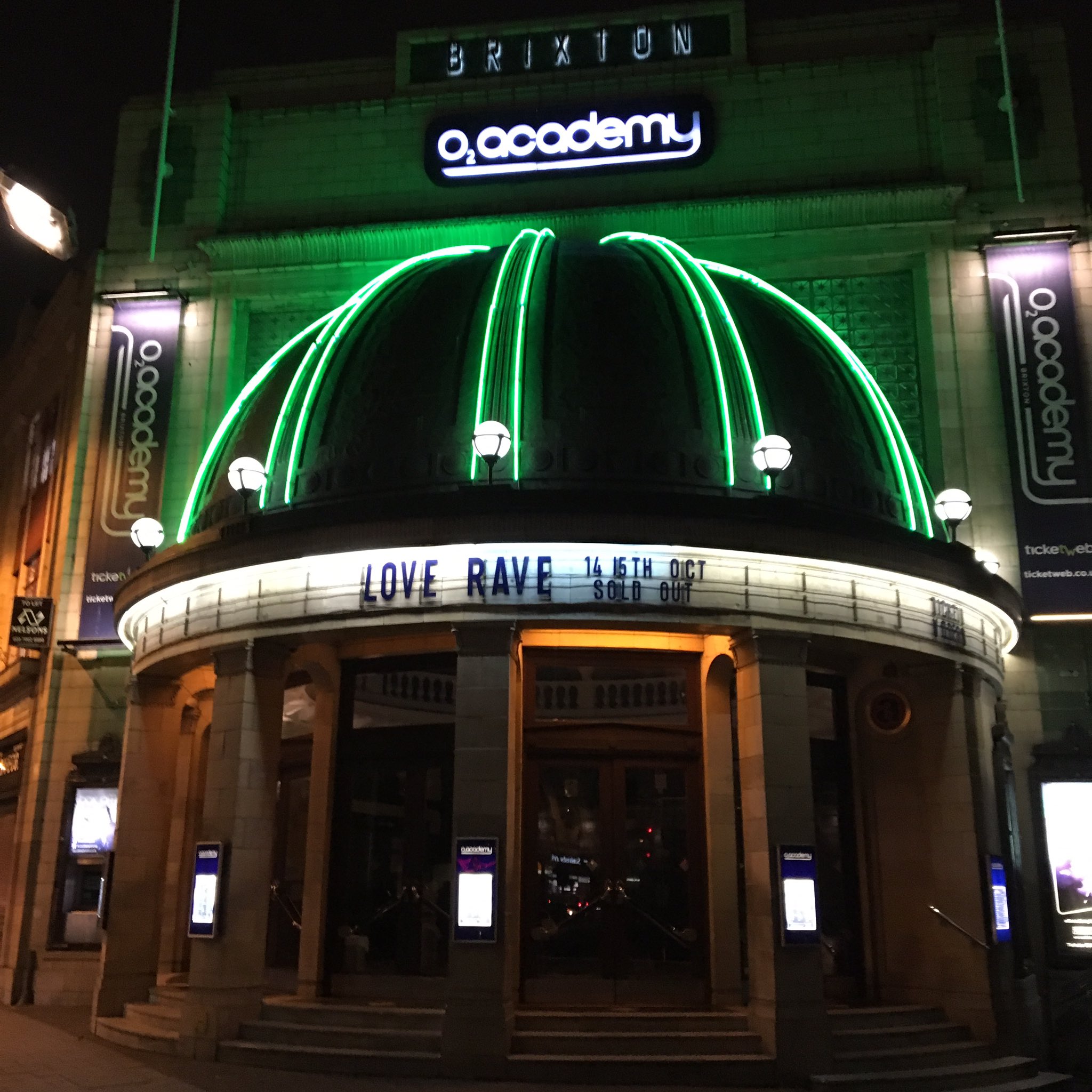 I don't need to tell you about the sad state of affairs that our beloved night life is in, so I won't. Instead, I'm going to tell you that with every closed Dance Tunnel, Passing Clouds and Fabric (save our culture) there is a Bussey Building, Oval Space and The Alibi helping the industry and its faithful fans. So when Four Tet brought back his All Nighter, it was unsurprising that tickets sold out in a matter of minutes, making it his fifth sold out show at the 02 Brixton Academy. Unlike its previous years, this year included two back to back dates with a heavy line up of Josey Rebelle, Jamie XX, Caribou and Champion just to name a few.
I found myself queuing up on Saturday night - the 2nd of the two night series - excited but
apprehensive, the longevity of the night faced me with an eight hour rave, this really wasn't one for the faint hearted. Given recent events, the vigorous security checks came to no surprise and were welcomed without hesitation from the five thousand in attendance. Walking into
Brixton Academy
,
a venue famous for concerts and shows with a 10.30pm curfew, it's near 11.30pm and the night has only just begun, it's difficult to get your bearing but in we go.
Floating Points
kicks off the night and even though there are signs that state the sound system is designed to be enjoyed downstairs, acoustics from the balcony are insane, every drum, kick and snare sound like it's in HD. Producer, DJ and neuroscientist (apparently, sources are yet to confirm) had the tough gig of being first on the bill but eased the crowd in with some of his best selected jazz, soul and afrobeats. Luckily swapped over from the Friday night slot, Caribou - or Daphni, or Manitoba - took the crowd on a journey through the ages of house music, from it's tribal beginnings to modern day disco. The Canadian producer wasn't afraid to dig deep and delivered one of the most crowd pleasing sets, fun from start to finish, he raised spirits and without a shuffle in sight. Blazing in with the first reload of the night it was
Formula Records
very own Champion who trumped the rave by far, with his slick selections of the finest bassline, UKG and grime tracks. The most memorable moment was his mix into
Sir Spyro
's Topper Top ft. Teddy Bruckshot,
Lady Chan
&
Killa P,
which has to be the most played track in the rave right now.
The simplicity of it all was an important element of it's success, in theory and in reality all it had were six DJ's, four anglepoise lamps and five thousand people. Four Tet, for the fifth sold out night, has managed to reclaim London's night life and celebrate our rave culture with fans from across the board. As conversations, protests and fundraisers continue it's now up to the clubs, promotors and DJ's that are still able to make a contribution to the scene, it's so important that each event is adding its case to the bigger picture.